Chat box from FDR's Deliberative Democracy Webinar
From Me to Everyone: 05:50 PM
Welcome everyone! Our website is http://forumfordemocraticrenewal.org.
From Me to Everyone: 06:08 PM
As our speakers progress, you can use this chat to post questions for the speakers, and you'll be able to see the questions others have. Or you can speak up when we get to the discussion part of the session.
From Kate Lawrence (she/her) to Everyone: 06:10 PM
This page says that the closing date for consultation has been extended until Dec 20.
https://www.mrsc.vic.gov.au/About-Council/News/Have-Your-Say
From Me to Everyone: 06:12 PM
Thanks Kate
From Lenka Thompson (she/her) Taungurung to Everyone: 06:14 PM
What kind of resourcing / budgeting do the councils commit to the deliberative processes for the Ward committees?
From Me to Everyone: 06:14 PM
And I"m interested in how the agenda is set for/by those Ward committees
From Lenka Thompson (she/her) Taungurung to Everyone: 06:21 PM
Does the panel think deliberative models work for Planning Amendments and Strategic Planning?
From Nivek Thompson to Everyone: 06:23 PM
Link to Real Democracy Now! a podcast season one on deliberative mini-publics
http://realdemocracynow.com.au/podcast/podcasts/season-1-deliberative-mini-publics/
Facilitating Public Deliberations podcast – look at first few episodes in particular
https://www.newdemocracy.com.au/category/library/podcast/ Leading deliberative democracy course soon to be open for registrations https://open.uts.edu.au/ Blog post about using deliberation outside of citizens' juries http://www.deliberatelyengaging.com.au/2020/08/17/deliberationbeyond-citizens-juries/
From Me to Everyone: 06:26 PM
Starting points for our Council
From Kate Lawrence (she/her) to Everyone: 06:28 PM
So do we give up on participatory democracy?
I haven't read the MRSC plan but what process are they proposing for the four required plans?
Do deliberative democracy processes impact the political engagement of the general public?
From Lenka Thompson (she/her) Taungurung to Everyone: 06:37 PM
Are there numerous education institutions doing the Facilitation Courses?
I was struck by the lack of Comms strategy in Macedon Ranges' plan. Should this be highlighted in
the plan?
From Lenka Thompson (she/her) Taungurung to Everyone: 06:52 PM
Thanks so much, Rob, Ross, Nivek, Kyle and everyone – got to help with some kids' duties. So good!
Look forward to more conversations. Well done. x
From Kate Lawrence (she/her) to Everyone: 06:59 PM
Thanks so much everyone, it looks like it might be an exciting time in local democracy. I need to go
now but am really pleased to be part of this conversation.
From Me to Everyone: 07:01 PM
Follow up at http://aforumfordemoctraticrenewal.org
Wednesday Nov. 18th from 6 p.m. to 7 p.m.
Here come the winds of change!
Stay put at home. Join our webinar and learn about the new democracy which is about to become a reality in the Macedon Ranges.The new local government act requires that councils implement deliberative community consultation processes as an integral part of their new community consultation policy. It's due to be completed by March 1st 2021. We all have an opportunity between now and November 23rd to help our council to get it right. The FDR webinar has a formidable line-up of speakers to get everyone up to speed with this important initiative.


Iain Walker is Executive Director of the newDemocracy Foundation (nDF) in Australia, a role he has held since 2011.Iain has led over 20 trial projects at local government and state government level including projects for State Premiers on both sides of politics. The topics have ranged from long-term budgeting for the $4bn City of Melbourne Financial Plan to the potential for a high-level nuclear waste storage facility in South Australia. In the water industry, nDF designed the 2017 Citizens' Jury process for Yarra Valley Water.



Kyle Redman is the Research and Design Program Manager at the newDemocracy Foundation. He completed a Bachelor of Arts (Hons) at the University of New South Wales (2017) and has since designed and managed a number of newDemocracy's most recent projects, including our Democracy in Geelong, Yarra Valley Water, ACT Housing Choices and Byron Shire Council projects.He has also worked with international partners to design democratic innovations in Eupen, Fortaleza and Madrid. He has also co-authored the recently published handbook 'Enabling National Initiatives to Take Democracy Beyond Elections' for the United Nations Democracy Fund.


Nivek Thompson is the founder and executive director of Deliberately Engaging.She is highly experienced in designing, project managing, recruiting and facilitating stakeholder and community engagement processes,Prior to founding Deliberately Engaging, Nivek worked in the public and not for profit sectors. Amongst other roles, she was Project Director for the New Democracy Foundation and held senior positions with the NSW Premier's Department .She is an Associate at the Centre for Deliberative Democracy and Global Governance, University of Canberra; an Associate at the Sydney Democracy Network, University of Sydney; and a doctoral candidate at the Institute for Sustainable Futures, University of Technology SydnShe has recently contributed to an OECD working group on institutionalising deliberative processes. Nivek is also the host and producer of Real Democracy Now! A podcast where she regularly converses with thought leaders from around the world about democracy and democratic reform. She is also the producer of several other podcast series including Facilitating Public Deliberations.
Nivek is well known here in the Macedon Ranges and especially in Kyneton and District. Nivek helped our local Co-Op to successfully set up and choose two of their board members by sortition.

Zoom Meeting invitation

Topic: My Meeting
Time: Nov 18, 2020 06:00 PM

Join Zoom Meeting
https://us02web.zoom.us/j/3198686997

To swot up in preparation for this webinar check out the following linkshttps://www.facebook.com/pchosking/videos/10158762783742954http://file:///C:/Users/Numan/Downloads/Draft-Community-Engagement-Policy%20(1).pdf
Other News
Congratulatory emails to our new councillors

Hi to all the successful candidates in the West and South Wards (Jennifer, Mark and Janet in the West and Anne, Dominic and Rob in the South) We have enclosed the congratulatory letter FDR sent out to the new East Ward Councillors below . This letter congratulates the six Councillors in the other two wards. As an organisation we are very pleased with the results of the election and see a potential for a progressive council leading our community in a positive direction over the next four years. It's going to be a challenging and busy time for all of you on the inside as it will be for us as we support your endeavours on the outside. Probably the hottest issue we face in the South and the West is inappropriate residential development in Gisborne and Kyneton via investigation zones which are outside the current town boundaries. Thank goodness Woodend has been spared. Well designed infill development could shut the gate on urban sprawl and maintain the liveability of our towns. Probably the most important decision you will make in the next few months is the appointment of a CEO. Choosing a progressive administrator is central to creating a new energy and trust between Councillors, the Community and the Administration. Well done to you all and we wish you luck over the next four years in your public role and service. Warm Regards,Rob Bakes on behalf of a Forum for Democratic Renewal 0427 580803
Dear Annette, Bill and Geoff,
I write to congratulate you on your successful bid to become a Councillor for the Macedon Ranges Shire.
The Forum for Democratic Renewal who ran the Traffic Light Survey was pleased with the result of the ballot with seven green light candidates and two orange light candidates elected. No red light candidates from the out-of-town development lobby were successful.
We campaigned on citizenship, community and climate and will continue to be engaged citizens over the next four years of your term as a councillor. As East ward councillors we hope you can be involved with us around the issues we are passionate about.
In Riddells Creek we hope to run community forums on town planning and the traffic movement network strategy before the adoption of the town centre development and the Amess Road housing subdivision proposal. We hope you have time to visit with us to Wybejong Park, Barrm Birrm and the historic Smiths Nursery to look at the special environment hot spots that residents care for.
In Lancefield the great community initiatives from the Neighbourhood House, the Farmers Market, Megafauna site events and restoration, and the intact historic buildings, plantings and great farming soil make it a town like no other.
In Romsey councillors and community will be busy with consultation around the new outline development plan which will provide for Romsey's future beyond 2021.
In the next four years we hope we can work with you to –
· Stop land speculation and urban sprawl right across the Macedon Ranges.
· Strengthen the role of the wider community in council decision making (ref new local government act)
· Strengthen the liveability of our towns with an emphasis on long term sustainability.
· Heal our landscape, restore habitat, promote regenerative farming

We are so pleased that we have elected 3 East ward councillors who are good listeners,
Yours Sincerely,
Lyn Hovey
View this email in your browser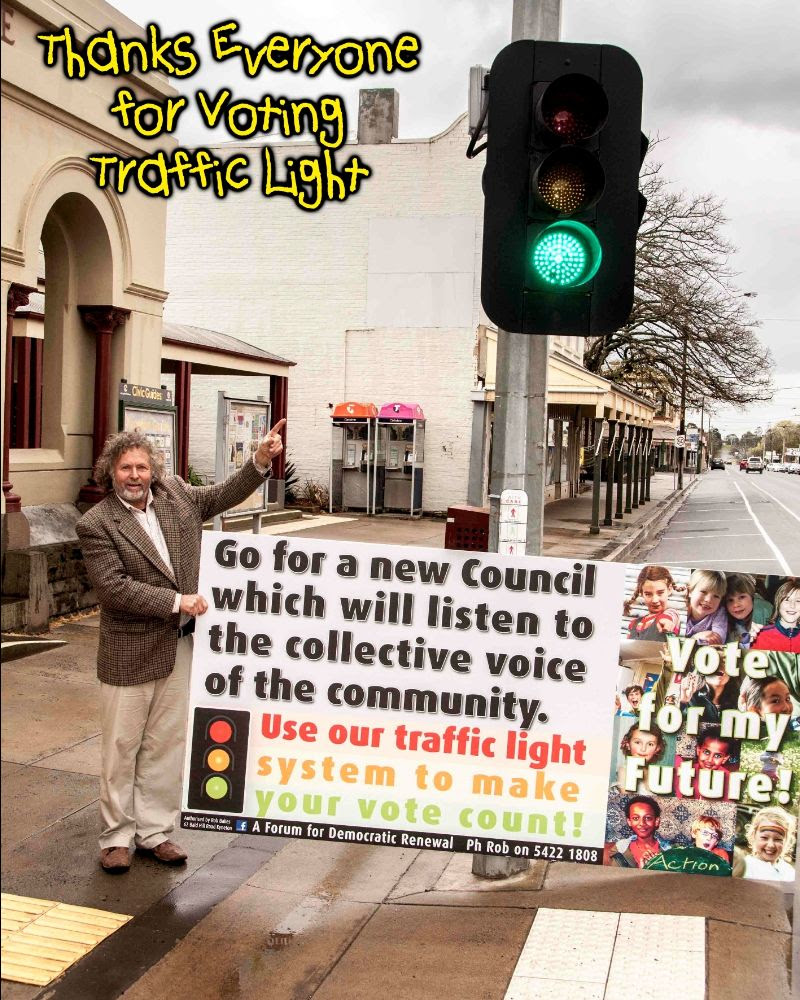 The Traffic Light Campaign along with other community initiatives like MRRA's excellent assessment process and media presence of Macedon Ranges Voice, has delivered a council which we think has the potential to be broadly progressive.

Congratulations to the seven green light candidates and two orange light candidates who were elected. https://www.vec.vic.gov.au/results/2020-council-election-results/macedon-ranges-shire-council

No red light candidates were elected and the developer, neoliberal influence was well and truly countered.

Our special thanks go to the four green light candidates who were not elected but played a pivotal roll in insuring that others were successful… Adrian Gauci and Christine Walker in South Ward, Lenka Thompson in West Ward, and Natasha Gayfer in East Ward.

Australia Post did a deplorable job delivering our flyers. Some Post Office boxes in Gisborne and Riddell's Creek drew a complete blank. Its heartening, though, that enough residents were able to take advantage of our voting guide to create a successful result.

Our success vindicates the decision to spend 7k on the campaign. To date we have raised two and a half thousand dollars so we are still asking for donations to raise another four thousand dollars. That's only forty people putting in a hundred each!

Use these numbers for a direct debit
BSB: 633000/Account No.125832121
Reference "Traffic Light" with your direct deposit
Phone contact Vivien on 0409 386 875A

Forum for Democratic Renewal's tag line is still politically relevant…Citizenship, Community and Climate.
Our role as engaged citizens will continue to be pivotal in underpinning the functioning of our new council.
Some IssuesStop land speculation and urban sprawl right across the Macedon Ranges.Strengthen the role of the wider community in council decision making (ref new local government act)How can we strengthen the livability of our towns with an emphasis on long term sustainability.How can we heal our landscape.Regards,
Rob Bakes on behalf of the FDR assessment committee. 0427 580803
Traffic Light Election Campaign 2020
*A Forum for Democratic Renewal (FDR) is drawing on the wisdom of local communities to assess the worthiness of each of the Macedon Ranges candidates in the upcoming council elections. We were all very pleased with the line up of representatives in 2016 and were optimistic that the new council, with plenty of fresh faces, would listen to the collective community voice. This council has been better than the previous one but the need for collaboration with the community is now even greater.
It's been four years since the last election and much has changed. Globally, the ecological and climate emergency has accelerated at a catastrophic rate. Science is now telling us that an apocalyptic temperature rise of 4 degrees celsius is a real threat if we continue to sit on our hands in relation to greenhouse gas pollution. Covid 19 is ushering in a new normal which needs to include better community, collaboration and deliberative consultation especially at a local government level.
Locally town boundary expansion and its associated urban sprawl pushed for by the State Government, still threatens to dismantle our precious landscape, our rural amenity and township character. Now more than ever we need councillors who are loyal to community aspirations. We need councillors who will stand up for their local community in the face of intense pressure to trash years of protection which for many decades has been afforded to the Macedon Ranges for the benefit of all Victorians. These developments are a catalyst for FDR and our community to widen our view of the number of local issues which need our attention when we decide how to cast our votes in October.
Our charter and guidelines
We are keen to give maximum encouragement to independent candidates who are not members of a political party and who have not benefited by the support of a party organisation.
Candidates who are members of political parties need to make clear to our assessment team that commitment to their community's voice will take precedence over party political affiliation.
Assess the performance of the last council and individual councillors who are seeking re-election by examining and analysing five to ten main community issues which the Shire is engaged in or has ignored over the last four years. Traffic Light Election Campaign
There are some examples over the last four years where democratic processes at a council level have improved. Much more needs to be done in relation to democratic renewal, though, by the new council and the representatives we choose to elect. Many issues which emerged from our forums over four years ago have not been addressed and are more relevant today than ever. We will reiterate those themes when assessing the current aspirants to public office.
*The Forum for Democratic Renewal is a group of citizens who want to improve local democracy in the Macedon Ranges. We want deliberation, not just consultation! We want places and time for learning, discussion, debate and decisions. We want to think ahead and think big-picture.
Authorised by R Bakes PO Box 446 Kyneton Vic. 3444
Phone 0427580803